Wil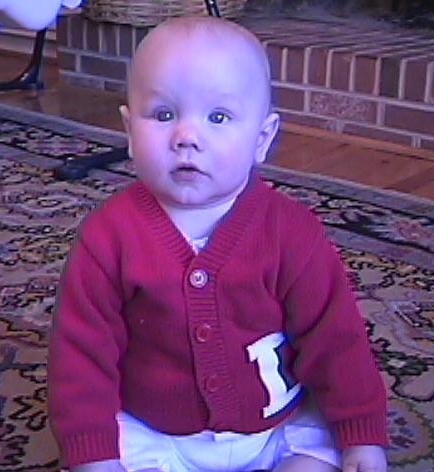 Wil...sporting the Davidson sweater.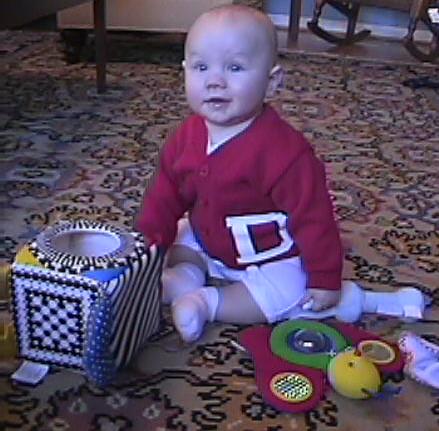 Wil

Wil...have food, will eat.

Wil...bath time.

Wil...clean and happy.

Wil looking very Presidential (in a Bush kind of way, not Clinton).
---

It's the Great Pumpkin

Wil...a load of laughs.

Wil...working his charm.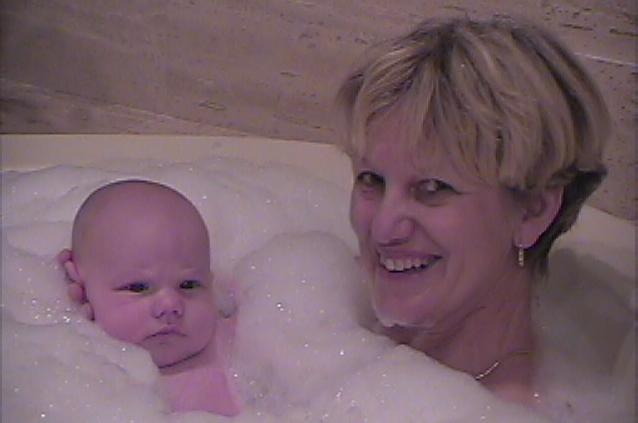 ...the results of Wil working his charm.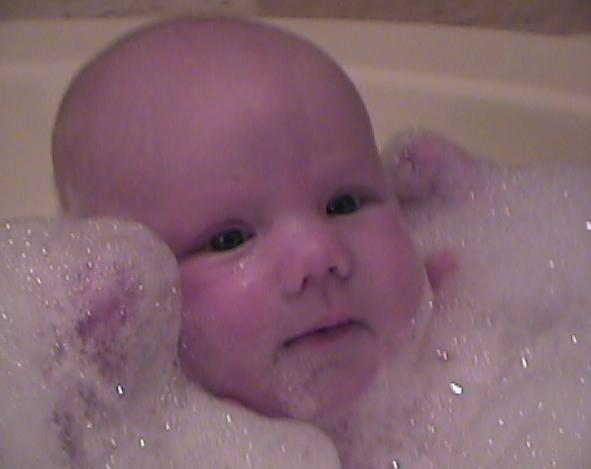 Wil...call me Mr. Bubble.

Wil at a Halloween Party with his friends.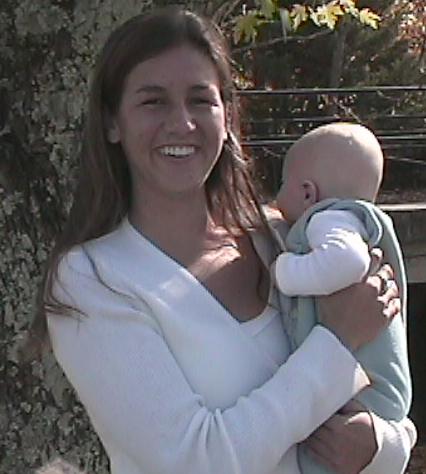 Wil and his cousin Anna.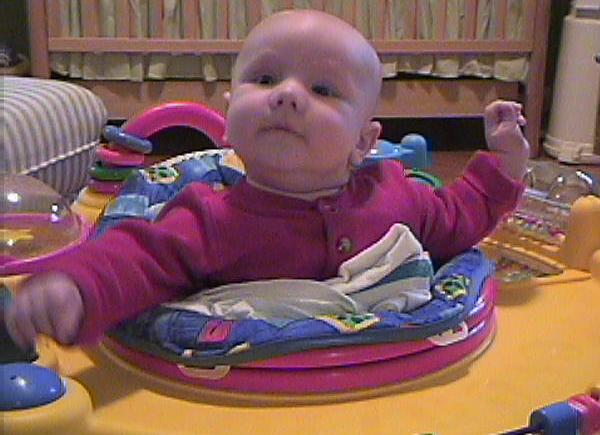 Wil in his new toy from Aunt Susan.
---

Wil in his Davidson outfit in honor of Homecoming weekend.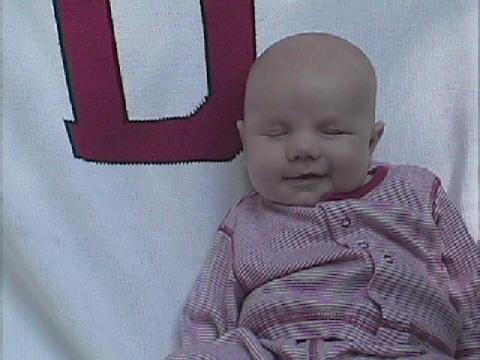 Wil, dreaming of becoming a Davidson student.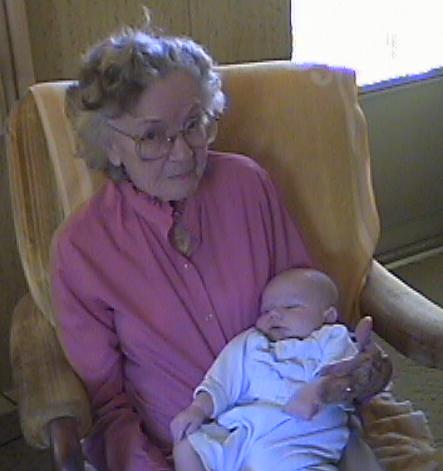 Wil and his 96 year old great, great grandmother, Lillie.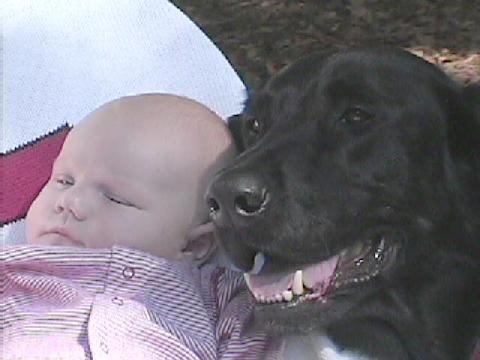 Wil and Tatty.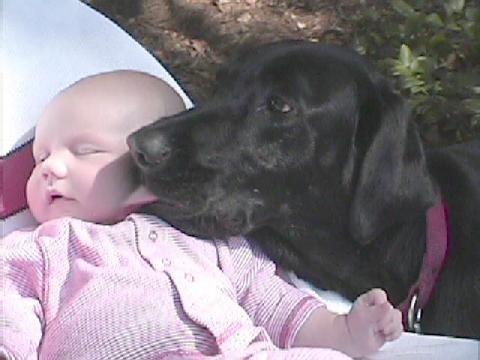 Tatty kissing Wil.
---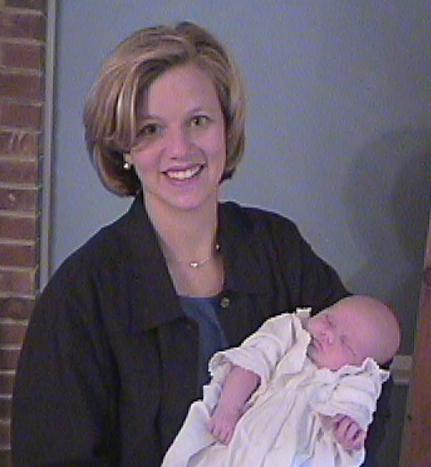 Wil with Mom on the day of his Baptism.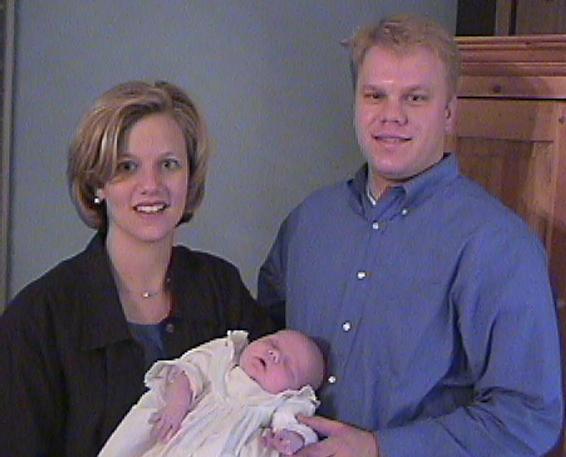 Wil with Mom and Dad.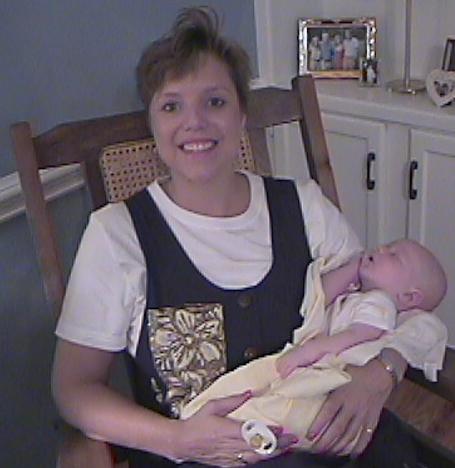 Aunt Viv and Wil.

Wil in deep thought while receiving words of
wisdom from Grandpa Harold.

Wil being charmed by his Great Grandma "Grammie"

Wil with Grandpa Dale and Grandma Lou.

The Harkins
Left to Right: Holly, Bert, Jeanne, Sydney, Susan with Wil, & George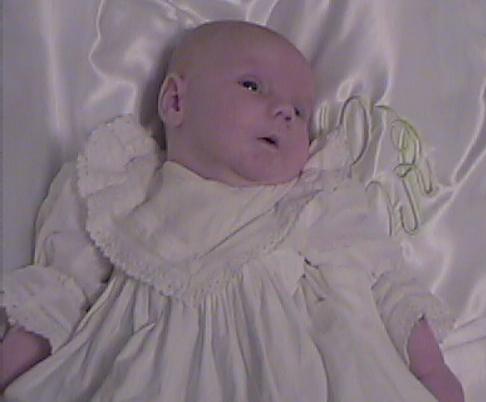 Wil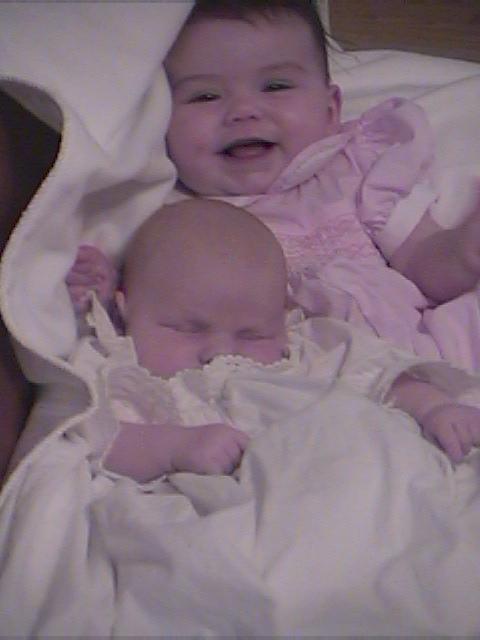 Cousin Sidney and Wil.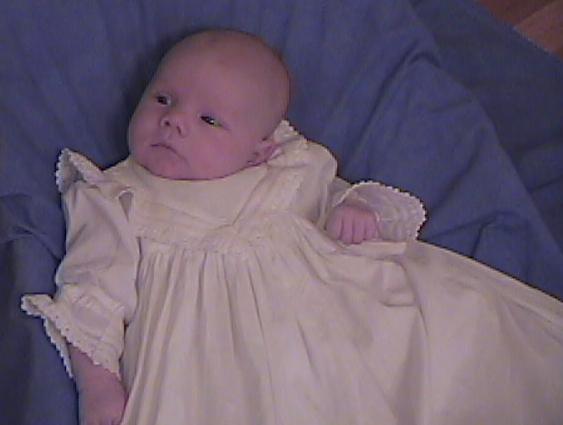 Wil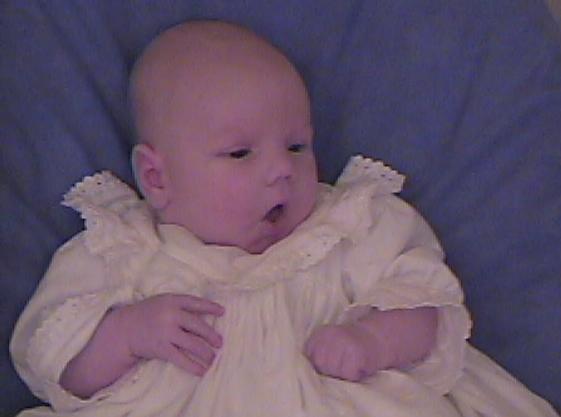 Wil breaks into song.

Erich and Jen give the picture definition of "Kid-friendly"


Let the "Angelic Look" competition begin.
---

Look out ladies...here is Wil...stylin'.

...And if the clothes don't get you, the smile will.

These photo shoots will drain you.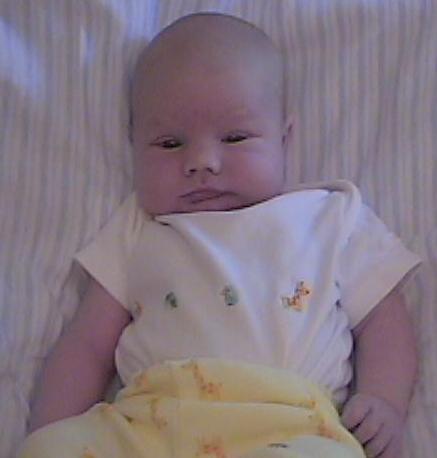 This would be the serious Baby Gap pose.

Wil...in between shoots.

The washboard stomach is starting to take shape...maybe.

Looking good enough for a "Glamour Shot".

Wil.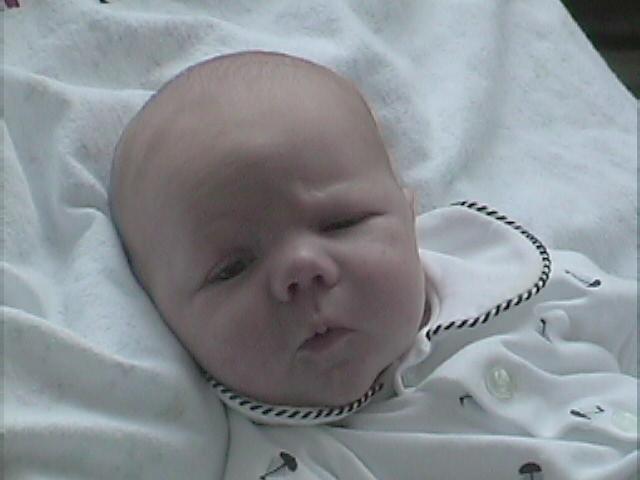 Can we be serious here.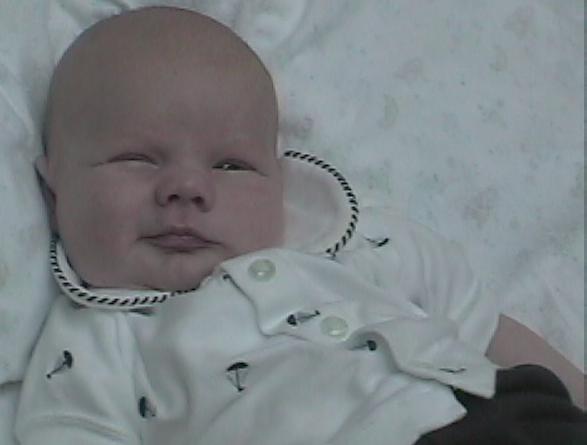 You tell me who I look like.
---

Wilson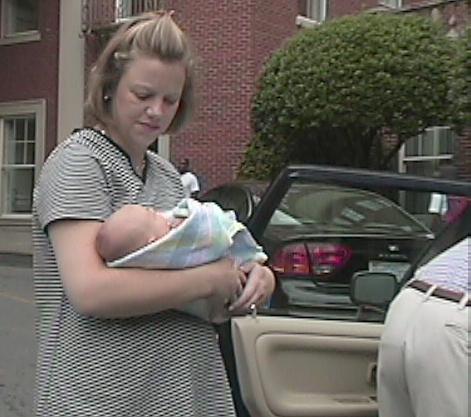 Mom & Wil leave the hospital...not too impressed with Dad's third attempt to properly situate the child seat.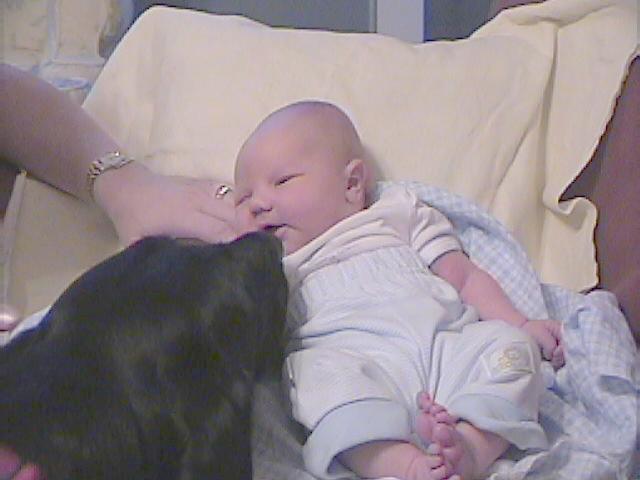 The first of many kisses to come from Tatty.

Rock and Roll...Wilson's Home!

The serious side of Wil.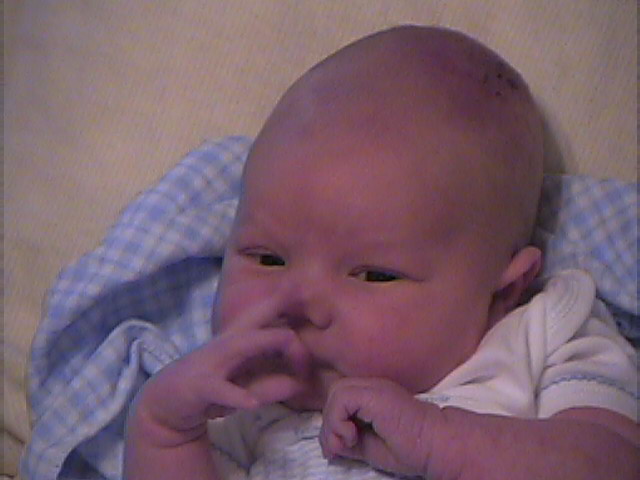 Wil...finding out for himself that he has Daddy's nose.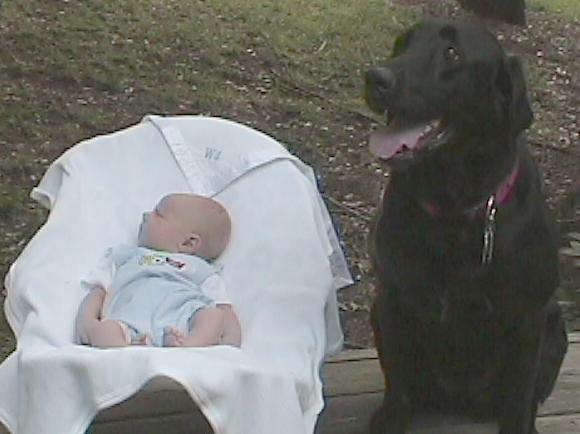 Siblings profiling to compare and see who truly has Daddy's nose.

Tatty takes her turn babysitting.

Wilson...not wanting to be in another photo session.

Wilson...warming up to the camera.
---

Wilson...up close and personal.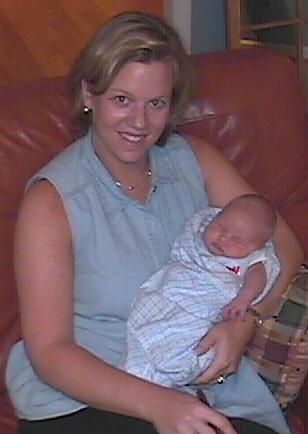 Elaine and Wil.
Is that twinkle in Elaine's eyes from pondering about #2?

Wilson...go to "Post a Note" and let Doug and Elaine know who you think he looks like.

Wilson...worn out from cuddling with so many people.
---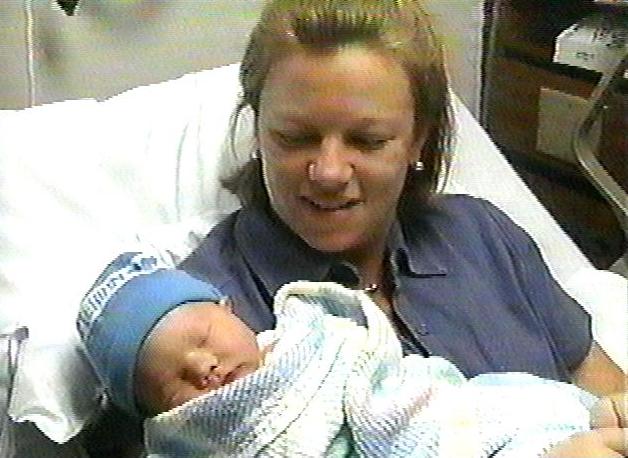 Wilson arrived on July 31, 2000, 3:27pm
8 lbs. 12 oz.
21 inches

Doug, being the proud father, wasted no time in getting Wilson's birth covered by the news.

Actually, Wil (a.k.a. "Hollywood") was picked to spotlight a news story about new hearing tests for infants.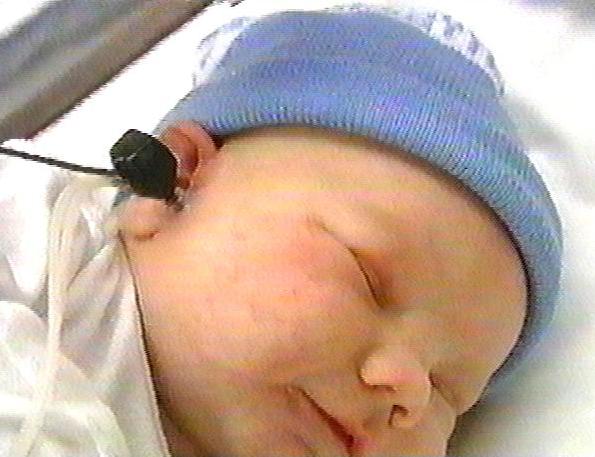 Wilson displays proper hearing testing methods.

Wilson becomes intensely focused as Jimmy Buffett music is piped through the ear piece.
---
Email comments to Doug and Elaine

This page was last updated on 05/28/01.